Chicago welcomes cannabis convention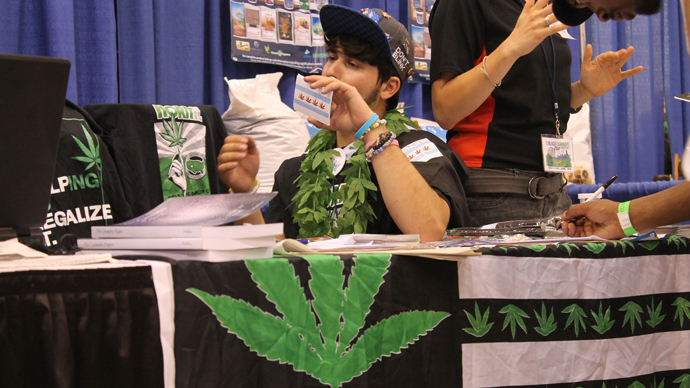 ​As Illinois prepares to get its medical marijuana program up and running, the pot industry converged on Chicago this past weekend to push the drug's health benefits and increase awareness.
The event took place on Saturday and Sunday, with local officials, marijuana experts, and pot advocates educating attendees on the drug's benefits, proper use, and how the plant's sale would be regulated. Other speakers also gave recommendations regarding how to cook with marijuana.
Held at Chicago's famous Navy Pier, the Cannabis Conference was put together by a nonprofit organization called My Compassion, which is made up of patients and educators who promote the positive effects of marijuana when used against various diseases, including cancer and multiple sclerosis.
"We have experienced first hand how cannabis has helped these conditions while reducing many of the pharmaceutical prescriptions," My Compassion wrote on the conference's website. "Across the country cannabis is showing positive results in improving people's health in turn giving hope and a better way of life."
Speaking with the Chicago Tribune, the Dan Linn of Illinois NORML, which is urging the state to get rid of penalties for those who use pot legally and responsibly, said the conference would be a good avenue for marijuana education.
"This event offers a way for people to learn more about our new medical cannabis law and the changing political landscape," he said. "There is widespread support for medical cannabis and there is growing support for legalizing cannabis entirely. This event helps to legitimize the industry and this movement and remove the stigma from people who support ending the prohibition on this plant."
In addition to talking up the drug's medicinal use, the Chicago Sun-Times reported that the conference also featured out-of-state vendors looking to sell new businesses items and services ranging from hydroponic equipment to security consultation.
The event arrived as Illinois continues to explore the rules and regulations it will implement regarding the use of medical marijuana. As RT reported last year, Illinois became the 20th state in the US to legalize the drug for medicinal purposes, though its four-year trial program will feature some of the toughest regulations in the country. Users will not be allowed to grow their own plants, for example, and dispensaries will be subject to 24-hour surveillance.
The law officially took effect on January 1, but regulations have yet to be completed. Signed into law by Democratic Gov. Pat Quinn, the Medical Cannabis Pilot Program will license at least 21 growing operations and 60 dispensaries across Illinois.