'UK govt does not know where it stands when it comes to opposition to Assad'
Published time: June 24, 2014 10:43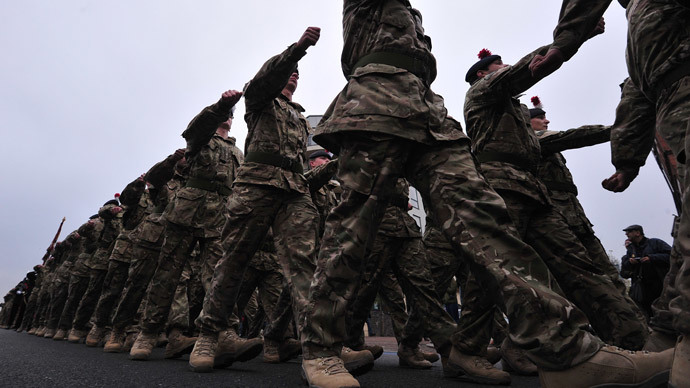 The British government's policy is creating an environment where a large number of Muslim youth travels to Syria, wreaking havoc and destruction, the chairman of the Islamic Human Rights Commission, Massoud Shadjareh, told RT.
Shadjareh says this is similar to the situation in Afghanistan. "Although the training, support, financing of jihadists even in Afghanistan was done by the West and its allies like Saudis, at the end of the day [blame was laid] on the ordinary mosque [as if it were Muslims from mosques] in London and elsewhere which were the cause of this," he told RT.
RT: Jihadists from the UK fighting in Syria faking their deaths in combat to return home undetected. How does that work?
Massoud Shadjareh: These accusations that they are faking death so that they could come back… I'm not sure to what extent this is actually just a rumor or something that actually is a sort of methodology that actually works or doesn't work, because the reality is that for them to come back into the UK, they need documentation and this documentation is going to identify them one way or the other. But I think it's a much bigger story. The fact that why we are in the current situation, I believe is the misguided policy of the British government, which actually has created this problem. Now the British government is trying to blame it on the Muslim community, and I think this is the real story. The fact that it is a disarray of British foreign policy in trying to support the opposition to Assad to start with, and creating this environment where a large number of Muslim youth is going all the way to Syria.
RT: The UK government has supported Syria's rebels. So why is it upset that British citizens are heading to Syria to fight alongside the Assad opposition?
MS: It was only last week for the first time that the British government identified ISIS as a terrorist organization. Prior to that, the only thing we heard in the media in the West and from the British government was that those are rebels, and that's the worst that has been said about them. But, at the same time, youth from Muslim backgrounds would be arrested for association with them as terrorists. I think the reality is that the British government does not know where it stands when it comes to opposition to Assad, and encourages people to get involved. The reality is that's why we are seeing quite a number of people going to fight inside of Syria and they don't go anywhere else; they aren't going to Palestine or Kashmir or Myanmar or anywhere else where there is this sort of conflict, or indeed Central Africa. This is really a result of British government policy and their allies like Saudi Arabia. This is something that they have been collectively involved in supporting from day one, and indeed, from day one, many of us felt that this policy is going to backfire and create the havoc that it has created, the death and destruction, and indeed it will undermine the real empowerment of the ordinary people in Syria.
RT: How much of a threat to Britain are these returning radicalized jihadist fighters?
MS: I'm not sure about how big a threat they will be. Indeed, when you have people who get used to behaving in such a way of opening people's hearts and eating them, shouting "God is great!"… this really is an abomination not just from a Muslim prospective, but to t humanity. You have people like that in any society and this is dangerous. Again, you are thinking what damage they could cause to people in Britain. They are already causing huge damage in Syria and in Iraq and elsewhere; they are really undermining civil society and they are creating havoc. We should be more concerned with that and that should be a question of whether it is British foreign policy that is promoting this. And indeed the policy of governments like Saudi Arabia, which are funding and promoting this as partners with the British government and the US.
RT: How do people in Europe get radicalized?
MS: What is happening within certain circles of the Muslim community is we have certain religious leaders coming from Saudi Arabia to the UK and they will be going around and promoting that this is an important struggle, which British Muslims should get involved in. The government as a whole has been promoting this. We were in a similar position at the time of Afghanistan. The West got involved in promoting jihadists, and the reality is that it backfired. Here we have a similar situation. And again similarly, although the training, support, financing of jihadists even in Afghanistan was done by the West and its allies like Saudis, at the end of the day [blame was laid] on the ordinary mosque [as if it were Muslims from mosques] in London and elsewhere which were a cause of this. The reality is that those who get involved in getting into the jet planes or in tanks and going around blowing people up, they are not getting this sort of skills in the mosque. Those skills come from Western sort of allies who are sending trainers and training people. A mosque in Wales or elsewhere cannot be blamed for that. What we are seeing is the result of the bankrupt foreign policy, and now we are blaming it on the Muslim community which is as unacceptable. We don't accept the concept of going cutting people's throats, crucifying the Christians and opening the hearts of Muslims and eating them. These are barbaric acts which no human being could endorse.
The statements, views and opinions expressed in this column are solely those of the author and do not necessarily represent those of RT.